I am slowly getting a rhythm here on the "THIS land" ( This is your land, this is my land….) I have been in one place now for 6 days and it feels so good. Thank you, everyone who has made it possible for me to actually have a place to stay before this final house sitting gig. I have new observations on most things or as I call it, my odd mainland behavior. You can read more about my "Lost in Transition" blog but here are some of my celebrated " firsts"back on mainland.
1. I was so excited that regular gas was so inexpensive. I then realized that no one in Marin actually uses regular gasoline for their Mercedes and so gas is as expensive as Maui. I nevah knew!
2. I went to Target to buy Flannel PJs in April. The sales person thought I was nuts. She was wearing a strapless dress and flip flops. I was in a leather coat, scarf, gloves and boots. I have been so cold, especially at night here in Northern Ca.
3. I got out of Target on the Saturday before Easter for under $20. I was unsupervised and I still passed up the PEEPS! I did have to stay in the right lane all the way home because I couldn't make myself go over 55 miles an hour. ( I don't dare entertain a Costco run just yet)
4. Had to have some fish for dinner. Mahi, Mahi was 17.99 a pound, FRESH! Yeah, and what do they call FRESH?
5. My headstand this morning was a bit kapakai. I have not been in the water "cross crawling" to integrate my body now for over a month. Right and left side integration is a little differen,  land locked. This is the hardest transition. I did make it to the local YMCA for a mouthful of chlorine and a foggy goggle lap swim, however. That felt OK. I have also been taking a lot of salt water baths before I go to bed.
6. I turn the heat off at night because that makes sense when you live on an island. Only after talking to someone about the temperature and energy savings for my new job,  did I realize that it was odd to wear a wool cap to bed. She laughed and called me Ebeneezer.
After almost 3 years in the jungles living as much as a yogi hermit as a white girl from Chicago can I can honestly say, I am odd. But tomorrow is another day and although I believe I have found a great part-tine job opportunity, tomorrow is Easter. Peeps or not.
That is for now. More to come as I continue to integrate and missing you all but really, nothing is missing. love, love
OK, I got it. I'm temporarily lost. In the dark without a flashlight. I feel off balanced and do not want to move to another place or ship boxes and make new friends and feel odd about returning to familiar faces and shy about the ones I have yet to meet. I'm done for the day in creating a sparkely, improved life for myself by physically relocating my job, home and always with the highest justification of "letting go of that which no longer serves…" I already need a vacation from this newest adventure and this is only one week into of my latest transition. I express all of this because even though I have a regular yoga practice, I still wake up every morning sharing the planet with real people like myself going through the same things.
Even now I can feel the charge begin to dissipate and I am mindful of my breath. I know that all I have to do is get on my mat and it will shift. That is the beauty of practice and purification of  the monkey mind, full of it's story and drama. However, I also know that many of us are going through transitions and by sharing some of my frustrations with a sense of humor, insight and some years of wisdom, I  may help others…for the benefit of all beings.
Moving and change is stressful and what I'm going on about  is the part that most people don't talk about when they make wonderful, exciting and positive changes in their lives. This is the flip side of the good news and wonderful opportunities and it can look many ways and have many different flavors depending on how much sleep you have had.
Today, mine just didn't taste good at all and to make matters even more bitter, I was painfully aware that I created it all…and I am the only one responsible. The only one creating suffering, is me. Even as I recommit to ease and grace, I see a habitual pattern of drama and suffering.
What to say about transitions? …it is the only constant and in our flow of life, it is natural to connect one event to another. Nature has it hardwired into her  program and we call it "the seasons". It is a normal process in moving from point A to B as my engineer dad would say. So what's the big deal?
We resist. I resist and thus create suffering. We think it is supposed to be easy and that nothing unexpected will happen. That means we have a "story" of what is is supposed to look like and when it doesnt flow that way, it feels like…well however it feels. When I see that, I see just how crazy making it is and how unessary it is and how I have all the yoga tools to change it very quickly.
Want to join me? Want to find out ways to manage those transitions in your life that grab a hold of  the root of your hair and then swing you around just enough for you to realize its your own hand?
Good. I have some things to share because apparently I have been studying this topic for the last 5 years on a very consistent basis. I also want to hear what you have to say as well. Between us, I know we can come up with solid ways for all of us to manage and even enjoy those little things like misplaced car keys….( you know what I am talking about) as well as those big events that completely alter our reality. I know a few things about that as well.
Stay tuned for the next installment of Lost in Transition.
Here I am, three weeks into my transition from Maui life to Mainland life. I completed the yoga therapist training on Mount Madonna in the first two weeks, as planned and traveled through Northern California with a stop in East Bay for a couple of days. Now I am at Lake Tahoe. I would like to say all is fabulous and I am excited about my new adventures and I will and I am and then there is the other side.
I certainly expected to feel a bit uprooted, out of the ordinary routine of my life, however, I didn't plan on feeling like I just landed on another planet. I keep referring to " A stranger in a strange land" because It feels so odd. Unusually sensitive and alert, I feel like there was a microchip planted in my head and whoever is in charge ( clearly not me)  has not updated the program.
So, once I touched down in San Jose and traveled to the retreat center at Mount Madonna, it took me about 4 days to just feel my hovering feet on the ground. And then when I did and looked down, I saw I still had my flip flops on! Even as the rain began in the Santa Cruz mountains and the wind blew me around…it took me two more days to change my shoes and put on my waterproof jacket. Now that is some strong habit energy!
So now I am at Incline Village, Nevada, over looking the magnificent lake. I am feeling only slightly more grounded in the woods of these native trees and granite rock. And I have created some quiet time to reflect and integrate from the many places I have dragged my self and luggage over the last several weeks.
On my walk this morning, a cat crossed my path and I was reminded of my own two cats,  Abbott and Romona. I remembered when my husband and I moved from Chicago to California back in 2000 and we enjoyed our driving adventure cross country. When we picked the cats up from their plane ride a week later, they were clearly not very happy with their version of the adventure. "Cat attitude", the vet told us and suggested we keep them in one room, together, for a week to help with their transition. It was so cute how Romona found a place to "ball" up in the corner of the closet and Abbott decided to become the smallest 20lb cat to fit under the covers in the middle of our queen sized bed. That was rather funny, actually. On the second day after their arrival,  we ran out of food decided to switch them to some new"organic" cat food…Marin style. Unfortunately, that was not the best digestive idea and I quickly went back to the grocery store and got the food they were accustom to. I should have known better. I marveled at how their natural instincts, although a bit odd, took care of them and finally after three weeks, they emerged as furry balls of love once again.
So I thought, why should I respond any differently then my cats did through their transition? Even though I seemingly have a larger brain, I was feeling just as freaked out. There was a difference, however.  I talked about it to relieve some of the discomfort and rationalized the mind chatter with Sanskrit translation and Sutra explanation.  But even with all that human response, I was still displaying some similar behaviors.
This insight actually gave me some awareness and relief from the suffering I was experiencing. It allowed me to recognize the high level of dis-ease I was feeling on all levels. I was grateful for my yoga tools but realized I could add some "cat wisdom" for a little more ease and grace. With the highest vibration of cat attitude, I share this wisdom with you…
Transitional Cat Wisdom:
1. Hide under the covers-Get more sleep than you normally would.
2. Eat good, simple food- Keep it as close to your own diet, BT ( before transition).
3. Be around people who you love and who love you– Even if you pull a little "attitude"  they will understand. Then love them back even more.
4. Allow yourself some odd behavoir-Laugh at yourself when you notice it and if you can't, go back to number 1.
This wisdom has made a big difference in the compassion I hold for myself through this time. Even though I am heading into new opportunities, there are just some things that are unknown and weird and it helps to have a few more tools in my bag. One of my teachers at the training said this about transitions…."They spotlight the habit energies you would not normally see in your day to day life routine. It can become a tapas of purification if you are aware".
May all your transitions be this insightful to your practice of living yoga and I look forward to hearing about how you make your way through.
Much aloha,
Linda
Today is our day off. I took my sleepy self to the hot tub at 6:30 am. No one about and sorta silent. Just me and the cat. I dipped in the steamy water and then when it got too hot, stepped out for some asana practice. Then when it got cold, went in again. Like that, for at least an hour or two under the towering redwoods. I never made it to the Redwood forest in Maui so this reconnecting with my favorite tree was great.  Although I was not actually in the ocean, I was looking at it. And was also happy  to know that I was looking at the other side of the same body of water I had looked at for so many mornings on the island. There was comfort in that.
After the tub, I stopped at the Sankat Mochan Hanuman Temple, which is what Mount Madonna was built around. This particular retreat center was created by a revered Guru, Baba Hari Das back in the 70's, and it is dedicated to this wonderful monkey.
In my humble opinion, the temple and Christmas lights and bells, conch shells and flowers is quite a garish site but that would be a cultural thing. The statue, itself is cleaned and newly painted about once a month in the brightest orange you can imagine. Ganesha, 1/2 elephant, half man,  is also present as his loving playmate/bro and I learned a bit more about flying monkeys and elephants from a beautifully robed man who put the saffron dot on my head and served me some tasty treats for Prasad.
PD, as he called himself, showed me the shakti yantra inside the roof of the temple and pointed to an equally ornate structure being built in honor of Ganesha. Can you say, Big Serpents? As he explained, the deities, although Hindu are not worshiped but the attributes and qualities of the deities are useful teaching tools to help us mere humans navigate our lives. He mentioned that Baba, now in his 80's was holding Darshan in the conference hall in the next 10 minutes and that I should go and introduce myself. I had wanted to do that anyway and so I walked over to the hall and sat in front of the man who has been silent since 1959. Sweet. Among 20 people or so, I asked for his blessing for this next adventure in my life. It was so casual and I liked it that way. I mean, this is a Karma Yoga community and in service to being in the world. Why wouldn't it be a casual thing?….after all, life goes on.
I have met some wonderful people in the last week from all over the country, world, actually. Rasksha is a new friend who has travels from Delhi, India specifically to be in the yoga therapist training. I found that really curious and one more reason to respect and understand the depths of this lineage and education. It is powerful and works and defiantly, higher education.
( wow, pause button, Raksha just "happened" to be walking down the hall and for the last 30 minutes she gave me the download on the deities etc. in the form of a flow chart as well as the "skinny" on the fat volumes of Vedic texts. I repeat, Wow….Gary walks up and I get the opportunity to express my gratitude for the people he attracts and that I am one of them. Phew. Fun. No accidents. And it's just beginning)
More to say but for now, I am committed to only being on the computer for short periods of time and letting go of this 21st century addiction as a practice. I am ready to inhale the essence of Redwood Tree as I walk the trail in the woods with an 85% dark chocolate bar in my pocket.
I have not let go of that attachment just yet.
much love here and an "over the pond", aloha, Linda
Hi everyone,
It's Saturday and I have no one to call and no kids to keep track of and no boyfriend or husband to wait for, no trash to take out…there is a sense of freedom in all that. I seem to be craving quiet since arriving, after almost three years on Maui, and Mount Madonna is the perfect transitional place here in the Santa Cruz Mountains to come for that. However, I certainly feel like a stranger in a strange land, leaving the magical thinking island of Maui… and it feels OK. I am here and my boxes are en route either by boat or plane to the magical land on the Bay. Odd.
I am creating a new life. I have not really recognized that until this very moment. I have been going through the process of creating a new business, yogacancure.com, new website, new partnerships, etc over the last year but this recognition is different. Weird and delicious at the same time. I feel so good about taking the time and even the money risk..( on the edge with that one, still)…to invest in this Viniyoga Yoga Therapy training and have created a yummy lifestyle where I actually can commit to my practice and become passionately excellent at something that is meaningful and connects people with their health, creativity and essence. Few distractions at this point.
That means, I get my clinic hours in, my homework finished, sleep enough, eat green things and connect with all the perfect people, feeling confident and competent that I am on my "way". I even get to study and enjoy it. Starting new with grey hair ( in all the right places) and wrinkles ( not just acne scars, now) and an inflamed sacroiliac joint, menopausal symptoms and a sense of Peace that it just doesn't all have to get too serious. I have a pretty healthy view of death—no one gets out of this alive— and an objective view of illness—we are not our illness-–. And more and more the ancient teaching of the Vedas brings a spiritual, grounded understanding of this magical thing called LIFE.
We have been "in session" since Monday from 6:45 am for asana practice to 7:45 pm finish with clinical assessment, sprinkled with meals, meditation and philosophical study in application to yoga as therapy. This stuff really works. The last week has flown by and my brain is uber stimulated in a very good way. I love learning about observation, movement and the application of skills for treatment for the structural issues of the sacrum, hip, low back and all the connecting parts. The pelvis is one big traffic pattern and a quagmire of potential congestion. Gary calls it a roundabout like the Champs Elysee or the one in England. With all that goes around there, eventually there is an accident. I am studying to be the one that can actually make a little sense and provide relief to those people who eventually experience some form of "accident". I actually feel smart which is something that has eluded me since I started in this training in 2005. Once we finish the pelvis, we will enter the knees, shoulders and more. five more days and then up to the Bay area and generous housesitting opportunities through August. the rest has yet to be created but I am "on my way"
thanks for being a part of it.
much love
Linda
As I inquire into my own moments of mastery, I begin to see where my ego has wanted to "accomplish" something. My family mantra is "a good day is a productive day" and I have been true to that my whole conditioned life…until now.
Yesterday, I completed writing 99% of my business plan/ outline for my new website. The whole process felt like a little bit of fun and a LOT of labor.  I had to look at why I was not feeling any magic in the hours of sitting at my desk in this creation.  I also recognized all those thoughts of "not good enough" creeping in and after 6 hours, decided to crawl into bed with the question of , what was I missing?
Under my covers, I made a big decision. I decided to shift my awareness, from productivity and misery to one of mastery and mystery. What mysterious ways was my inner muse going to create in the morning? In the next moment?…and the next and the next…So, I was up at 1:30 AM full of energy to write the next portion of my plan. After a short asana practice, I wrote for three hours, went back to sleep, up again at 7:30 am and completed my document within another three hours. Now, that felt good! I even " high fived" my yellow wall in recognition of my first conscious experience in mastery.
As I look back, it is a bit of a WOW! No ego conversation, just being in the moment of what my body was calling me to do. This process was close to impossible and all the fun was missing when my ego got into the conversation and yet by bringing my awareness to a shift in focus and attention, I changed the direction of my attitude and completed something I have been chewing on for almost a year.  Sometimes a simple shift can be…simply mysterious. Thanks Jennifer and your inspirational blogs on yoga in the world at www.oneyogalove.com
…with a new day.  This came out of my moms mouth today after briefly discussing, my fathers health condition. More specifically, the condition of his colon and chronic constipation (I know, pops, TMI, my apologies). And, mom, you are spot on in your 84 year old wisdom about the connection with mind, body and spirit.
We all have to "deal" with our own existence or survival on a daily basis.  Some of us do it unconsciously, by default  with worry. Others create a more conscious, awareness practice.  One popular option is a Coffee and Donut or the up-trend to a Latte and Scone. Another option is some other morning ritual that quiets the mind and brings about a state of contemplation.  As my friend, Jennifer says, " none of us gets out of this life time alive".  That being TRUE, what wakes you up in the morning as you deal with each new day?
This is not  just a mental or emotional inquiry but also a question for the energetic part of our being.  This energetic area specifically associated with survival issues is often called the first cakra in ancient texts and is located around the physical body at the base of the spine.  I have consistently pondered this question for as long as I can remember with a mind that "thinks too much" and even more so in the last 5 years as that same mind has turned itself inside out. I have created practices to support my body with asana and quiet my mind through breath and now I am inspired to fortify and give reason for my own existence through an energetic practice. I am inspired to include the first Cakra as well as  the power of chant and intention through the apana prana energy,of the five winds of prana.
My intention is not to go into the practices here but to direct your mind to the inquiry and then if you decide you want to further explore the notion of your existance, through intention and chant, please feel free to download the video on the winds of change and the accompanying pdf booklet. The purpose of this blog is to leave you with the inquiry and simply see where it resonates in your own physical being. I invite you to Journal about it, talk about it and maybe even watch a powerful portion of a video I just viewed about healing cancer with althernative and conventional therapies, called Cancer Quest.  This particular snippet brought tears of inspiration to my eyes because I am all too familiar with losing someone I loved to cancer.  I am very clear it was by his choice and  that leaves me to ponder my own choice. What wakes me up in the morning?
What is your choice?  I like to tug the mind a bit and ask it a little differently under the notion that Yoga CAN cure that which keeps us separate from our optimal health and wellness connection. What would Yoga do now? Invite the inquiry after your own practice and live in that question.
I look forward to your comments about your reasons to wake up in the morning allowing you to "deal" with each new day.  Thanks to my mom and dad for inspiring me to share the journey of the question and for all those who have come before me to share their wisdom.
mahalo,
Linda
YogaCanCure.com
integrating yoga into a lifetime of wellness
The following meditation is based upon the mantra "so hum," ("I am that") used within the traditions of Tantra and Vedanta.
By Shiva Rea
Mantra, the chanting of sacred words or sounds, is a central part of yogic meditation. Mantra comes from the combination of two syllables: "man," meaning "to reflect" or "be aware," and "tra," meaning "tool for" or "agent of." A mantra is a tool for reflection and the cultivation of awareness, and is used for both concentration and contemplation on the Source.
Within yoga, mantras are based upon sounds that reflect the energy of our divine nature. Om is considered to be the universal, consummate mantra. The following meditation is based upon the mantra "so hum," ("I am that") used within the traditions of Tantra and Vedanta. Since "so hum" also indicates the sound of the breath, it is a mantra that repeats itself effortlessly.
Find a comfortable posture for meditation (seated on a cushion or blanket, in a chair or against a wall). Place your palms facing up in jnana mudra (forefinger and thumb touching) with your palms facing up to open your awareness or facing down to calm the mind. Scan your body and relax any tension. Let your spine rise from the ground of the pelvis. Draw your chin slightly down and let the back of your neck lengthen.
Bring your attention to the tidal rhythm of your breath, feeling the rise and fall of your inhalation and exhalation. As your focus settles on your breath, begin to employ the simple mantra "so hum." As you inhale, say "so" silently to yourself, and as you exhale say "hum." Keep your focus on the sensation of your breath while silently repeating the sacred syllables, "so hum." As you drink your inhalation, gently drawing your breath along the base of your throat, listen for the sound of "so." As you exhale, listen for the sound of "hum" as your breath is amplified in the throat.
Let your mind become absorbed in the sound of so hum-in your internal chanting and your actual breath. As if you were watching the waves of the ocean, let your mind be naturally drawn into presence and stillness—no place to go, nothing to do, so hum, so hum. If a thought (vritti) arises, come back to the mantra so hum.
In the beginning, it may be helpful to set an external timer for 10, 20, or 30 minutes so you are not distracted. When you are finished, bring your hands together in anjali mudra (prayer position) and close with a moment of gratitude, reflection, or prayer to soak up the energy of your meditation into your being and life.
excerpted from yogajournal.com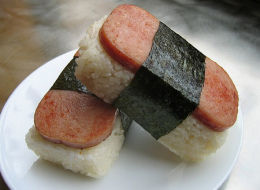 You may wonder why in heavens name is there SPAM in this headline let alone in my diet? I am glad you asked because, I LOVE SPAM! That's right. All the unknown meat substances aside and all the preservatives unnoticed, I really love this stuff.
This morning after my Tai chi chih class I stopped at the local Hawaiian market and there it was. A little warmed up slab supported by a bed of white rice wrapped in seaweed. "This looks good, but it is not sushi, what is it?, I asked" Proudly, the cashier said, " SPAM and it is fresh" I couldn't help myself and said" isn't that an oxymoron"? She chose to ignore me or didn't get it. Ha, that was funny.
It smelled good and I had a flood of memories back to my favorite camping scenes in front of the fire eating SPAM stew. I loved it! I had to get it. I felt an immediate warm pit of peace in my stomach as she rang me up.
My house mate just rolled her eyes and said something like she asked God to forgive her for feeding her children that when they were young.
She just didn't know.
Apparently, I didn't either. Hawaii consumes the most Spam per capita in the United States, and it was first introduced to the island during World War II. Well that would make sense but what was this interesting combo and how bad could it be?
Spam is so popular it is sometimes dubbed "The Hawaiian Steak" and this particular dish is called Spam
musubi, in which cooked Spam is combined with rice and nori
seaweed and classified as onigiri.
Wow, I really didn't know. I raced home, sat down and unwrapped it with care. Now, what to put on it? I couldn't remember but Ketchup came to mind. (Then again, my dad put ketchup on everything) I grabbed the Braggs Aminos and poured a cup of greenjuice on the side. It looked normal enough and I was surrounding the little guy in healhty food. How bad could it be? One bite later, I knew.
IT WAS DELICIOUS! As I remembered or even better. I was at peace, satisfied, happy and really pleased with myself for doing what I wanted without listening to the snickers and insults of my housemates.
Afterall, if Barack Obama can eat it on a golf outing, I can eat it after a T'ai Chi Chih class. Now we really have something in common other than our Chicago roots…we both appreciate this island dish. I can also appreciate NOT having another piece for at least another century and still retaining the peace and tranquility of this moment.
Mahalao, Linda
This is your place. Is this your peace?