April 24, 2009
This morning we took a little hike to the original site of the water in the mountains. The "source" We passed by the waterfall called Venus 's hair which really has that stringy, kinky soft quality of the Botticelli painting. Today it is colder and more cloudy so I think I will spend some time and write and read in one of the many fireplace rooms that are scattered around the hotel after our morning treatments. I am skipping lunch so we can stuff ourselves tonight at an Agrotourisma which is a residential home that opens it's doors to tourists to offer them home cooked meal with local ingredients.
Today we were treated to the orange, anise, clove and cinnamon version of the sauna. My friend Tama and I will have to discuss a secret way of introducing this process to our spa evenings back at the Bay Club Marin. Each woman who does the towel flap thing has a different approach but the results are the same. As the steam rises, the flick of the towel depending on the velocity will inflict an intense wave of heat and smell. The water is saturated with whatever herb they are using that day. Today was very invigorating because it was the Eucalyptus. By the third round of water soak, helicopter towel spin and three towel flaps, I am pretty cooked and head out for the cold shower. However,because it was so energizing and we had two other people in the room with us, we all went to the bathtub full of cold water. Myself and the other women jumped in, then Carlo and well, the third guy, he took pictures.
Afterwards, we also did a little photo shoot in the hot cold walking pool. A little reflexology that stimulates the feet by walking on rocks embedded in the cement . We start walking counter clockwise in the hot water path and then rounding the corner to enter the cold water path. It totally tingles the chins and calves which lack any "valving" mechanism to help circulation. My Yoga Therapy education comes in handy for these high tech medical explanations. This is a very invigorating process. Of course, no spa session would be complete without the daily submerging into the mud.
By now, I am a bit of a super saturated solution, if you know what I mean. However, my skin is flaking off into a new smooth former self of some kind. We have scheduled a facial for this afternoon which I am looking forward to and then to some home cooked meals. Can you tell I am falling in love with food?
April 23, 2009
We have been here in Bormio for at least three days and I am finding it hard to find the words to describe the experience.The hotel is grand, a 5 star choice that we were able to book at half the price which includes breakfast. I feel very much at home. I am discovering the healing properties of anything made from wood under my yoga feet. A very different sensation from the travertine tiles of the previous two weeks. All the floors in the place are wood with the exception of the marble and granite stone work throughout the thermal pools. Somehow it is easier for me to be inspired to do my yoga practice. For those from the Midwest, this hotel reminds me a bit ( small bit) of the Mackinaw hotel only as a destination resort. Bagni di Bormio was renovated in 1836 and much of the origianl paintings are in place, so check out the gallery of photos if you like at
http://www.bagnidibormio.it/en/hotel_terme_dove_siamo.htm
Seriously, look at this place. We did some hiking yesterday to see the old/original spa and today we actually got a ride up the hill in our bathrobes to experience the actual cave. This is the Baggni Vecchi. although not as "spa" like in a western sense, it was cool
The cave was well, a cave. I am not sure how they did this but the steam from the waters creates a natural sauna as well and the seats are carved right into the stone. These Roman baths have been famous from the first century B.C., the Medieval baths, the Imperial baths and the Saint Martin Grotto that leads to one of the springs right in the heart of the mountain.
Carlo did take me the last day there to see the original source of the spring. Just magical!
the scenery from the outside pool is even more beautiful because this hotel is higer up the mountain. enough excitement for one afternoon so we went back down the mountain, had some chocolate and took our afternoon nap
April 21, 2009
The mud baths were my favorite ritual. First, they smell amazing. Like Fresh Cow manure in Iowa only without the smell. What that boils down to is fresh earth. Good and sweet enough to eat. We drank the water and sat in the mud. heavenly therapeutic. And how is this for a definition of beauty…..
The Hot Springs of Bormio (from 37° to 43° C – 99° F to 109° F) are chemically classifiable as including sulphate, alkaline and earth, with light traces of radon and have detoxifying, anti-stress, toning, relaxing and anti-inflammatory properties for a complete return to form. And to return to form, does that mean pre-birth? or pre-form like the aliens that Carlo and I really are? We did notice the complete epithelial exfoliation which renders the skin smooth and velvet-like. Whether they cured the mud like they cure their ham, doesn't matter. It was awesome and the combination of smooth silk and smooth dry…well, I couldn't tell the difference.
The mud is also used to help treat osteoarthrosis, rheumatism, periarthritis, back and joint aches and pains where there is no inflammation. The muds are famous for there active enzymes that eat away dead skin cells. Aside from the fact that the color of the mud was very complimentary to my eyes and I wore it well, I do feel and look about 10 years younger. The options are to soak in the mud water, bake in the sun or air dry. It was far too cold to air dry so after covering myself head to toe in mud, I stepped into the one of two outdoor saunas. Fortunately there were few people there since it was the beginning of the week. It was not very hot and so to get closer to the fan I had to stand up and dry. well, I thought, as long as I was standing up to air dry, I might as well do some movement like…you guessed it. Tai Chi Chih. IT was incredible! I have a new definition of moving through very heavy air! How about bringing awareness to the tantien as the mud crackles in your belly button as it dries and cakes! It was pretty comical. No one was there and I moved as the mud dried. I looked like a swamp monster out of the deep lagoon, covered in mud with a polka dot two piece peeking underneath. When one has found "serenity in the midst of activity", who cares how muddy it is! A few people paused at the door and then came in. Somehow, I imagined that if I could not speak the language, they couldn't really see me. Just like a kid "if I cant see you, you can't see me"!. Now that's funny.
Fortunately, Carlo chose to keep his dignity and stayed in the mud until we both had had enough of our skin being eaten away and we rinsed off and traveled to the next pool to relax in the lawn chairs submerged underwater. ( wouldn't that make them pool chairs?)
April 20, 2009
After about a 5 hour drive from Montebelluno through the Italian alps fondly known as The Dolomites (le Dolomiti) we weave our little Toyota through the many ski "apartmentalized" towns and arrive at Bormio Spa. The Dolomites are breathtaking for sure and are the spikiest mountains in Europe. I asked Carlo why they were so pink and he said " fashion" . Huh? "Well, Italians are always first in fashion, even millions of years ahead. The rest of the world is finally catching up to the color pink." Yah, right! How about some geological explanation like they are made of a particularly rough grey stone, force their way skyward in blocks, towers and pinnacles, which are famous for going pink or bronze at sunset. Or how about The Dolomites take their name from a French geologist and intellectual, Dieudonné (or Déodat) de Dolomieu, who is commemorated with a monument in Cortina. He was the first to examine and describe the particular kind of limestone which characterizes these mountains, chemically different from other limestones. By no means all of the eastern Alps of Italy are made of this – none, for example, of the high land along the Austrian border. HOWS THAT! Now back to our previously scheduled programming in Bagni di Bormio…
We checked into this monument of a hotel after getting an upgrade and a corner room. Carlo tells me that he always gets an upgrade. Figures. He has been here several times with his national basketball team over the last 15 years, is tall, dark ( slightly graying around the temples) and handsome AND speaks Italian so he knows how to work it very well. It has been great having a tour guide throughout my entire journey. Our timing was impeccable because we arrived at the hotel just in time for the 12:00 spa thermal treatment. We put on our bathing suits, robes and flip flops and headed down the special elevator that took us directly to the "meeeniss one" or -1 floor. Tea and water is available at every turn and the tea is hot and full of cleansing herbs. There are 30 something thermal treatments and the water comes straight out of the mountain oozing with enzymes that are healing and detoxifying. The first stop was the sauna therapy room and just in time….we were the only ones' there. They have about 4 saunas throughout the entire place, each boasting a particular essence receipe. They lay the ingredients out on a grill like a barbeque over the hot coals. Our particular sauna just had the hot coals and we waited for the special potion that would be splashed on them to steam our beings into heaven. A woman in a bathing suit and towel explained that today we would receive the special orange therapy ( all in italian) before taking her wooden bucket and poruing three wooden ladels worth of orange essence water on to the steaming coals. She then swung a towel about twenty times over her head like a lasso and then flapped the towel in our general direction. Each person got three "flips" which sent a blast of hot air and oreange into our gaping pores. She did this three times and by the third round, I was ready to pass out. I was closest to the door so when we were done, I was the first one out. The suggestion is to take a cool shower afterwards or for those diehards, find the cold bathtub and completely submerge. HA! not on my first day, thank you very much. . So that was my introduction to the thermal therapy. We sucked in fresh air and also a bunch more herbal tea and from there we ventured outside to the mud baths.
April 18, 2009
Today, Saturday, although threatening rain, proved to be a perfectly sunny day. We headed up to the top of the Dolomites this time and the pics are amazing. It got progressively more cloudy as we approached 4000 feet but as perfect as any "Sound of music" mountain top you have ever seen. And then we saw snow through the fog. I have not smelled snow in about three years. It was exciting. I was not expecting snow with my fashionable Keen sandals and cotton socks but went out in it anyway and soaked my feet. ( Dave, I know, Cotton Kills!) Pretty much of a "pea souper" but the clouds began to clear and what opened up was astounding and the views were amazing.
We found the sought after hillside cafe and Carlo introduced me to Pannecotta and OMG!!!!! It has surpassed pastry for me. It is world famous and people come from Venice just for the creamy treat.We were joined by bikers who had just traveled up about two hours to the cafe and all they wanted was wine or coffee. No water. go figure about blood alcohol content in high altitudes while operating a moving vehicle!! I was ecstatic with my dessert in front of the fire all warm and cozy with frozen feet. It was heaven and it was the happiest I have been since leaving California. I literally licked my plate clean and enjoyed the warmth in my belly and the cushy vanilla, but not, cool feeling as it all slid down my throat. Mine was chocolate, of course and Carlo had fresh berries. It is made from the cows on the mountain. Which is what makes it world famous. I have a video to capture the moment.
From there we traveled down the mountain side and found another restaurant known for its Ricotta pie. It was not opened, officially but the woman lead us back into her kitchen for some fresh cheese. It is still too cold for the cows to graze close to the restaurant where they make the ricotta so this home made cheese will have to do. A huge chunk for only 3E or about 4.25 us. This was as cute if not cuter than the last cottage and the views were spectacular. We continued down the mountain now, in the rain and were grateful we had made it a morning trip. Back in Montebelluno we then stopped for a lunch of fresh pizza with smoked Ricotta and zucchini. I have now realized portion control and gave Carlo half of mine…only to retreive about 1 quarter of it back. It was soo good. After that we came home and took a snooze. A two hour power nap which was divine.
April 17, 2009
Carlo has taken me to several amazing nature spots in the last two days. Friday we traveled to the river basin. This would be the River or REEERevvvver. FiumFrumpve. The water comes off the Dolomite mountains and is very clear. On the way to the rivers edge to visit some old boyhood haunts, we walked through this magical forest.
It was all green and spring time and the only thing missing was Thumper, Snow White and Bambi! Seriously, It was unbelievable. There were little creeks, goats with bells on, burrows that nibbled your heels, little cottages and all was just blooming spring.
Then at the rocky waters edge,we had a contest as to who could put their feet in the water for the longest. I won! Good thing niether of us are not competitive…NOT
Then we went further up the mountain for some major hiking. I definatly needed a hike because I am soooo seriously falling in love with all of the food. After the hike, we went to market back in town and Carlo prepared a simple meal of fresh ( that would be caught in the river that day) Branzino fish with a lite salad. We are both creating a little more health for ourselves since the food in Ibiza was so heavy…and very little on the vegee side.
To finish our meal we both had a fresh Cannoli and mouse whipped "Athenas nipple" chocolate kind of thing pastry from the Paticheria. That was heavenly. Then we watched some Italian news and the Heist with
Catherine Zeta Jones and Sean Connery over dubbed in Italian.
April 16, 2009
Ahh, back in Italy and Carlo is mowing the lawn. A bit nostalgic for the life of the 60,s which is when this house was built. Enjoying the sights, smells and beauty which is all Italy. the smells especially. Air, earth, produce. OMG.
Had my first Italian pastry which was heavenly. Women are beautiful and always look smartly dressed. Even the people who do the garbage have dignity in their dress and style. What happened to us ugly Americans? How did we get sucked into the fast food cultural escape?
Anyway. Just chillin. We will go and hike the dolomites this afternoon since it will not be raining. More rain expected ( which is why the grass cutting….so much like my dad, gloves and special shoes and all..the "grass cutting uniform")
I sort of enjoyed Ibiza. I mean in contrast, Italy is more comfortable to me. The hotel was grand but still a little too stark for me. The people were really nice, however. I felt very jangly in Ibiza. Apparently it is one of 7 spiritual places in the world. There is this magical rock in the ocean that is inhabited by rats that is very powerful. I will do a little research on that one. I met a woman on the plane who was reading chakra book and we struck up a conversation. She may travel with me to Venice at the end of the week.. I feel much more grounded here in Italy. We drove back from Milan in the rain last night so the arean in Verona will have to wait for another time.
We did see a double rainbow…two of them. Pretty magical.
I am on Carlos' PC computer so typing is less convenient on a different italian keyboard. I also do not have as much acess to internet but will find my cafe. Carlo is being a good guide and translator and educator and I am really geting around. It is quite unexpected and cool. Going with the flow. I am excited to finish up my web site but will have to wait until I have acess to internt. I have been doing quite a bit of creative writing and writing for the yoga articles and for a workbook I am helping with. All is well and I picked up my yoga practice two days ago. Up until that point, I think I needed time to decompress. I feel good, powerful, focused and alive. Ready to make a life for myself which will include the beauty of this place.
April 16, 2009
Hi, all
Many adventures here on the island. Mostly eating alot. The Spanish food is heavy for me. No veges which is why I love the greens we buy at the grocery store for our evening meal. Today was the best day here! In the process of doing the web site and discussing the things I will do int he future, I did some research on the ecotourism industry. I have befriended the wonderful staff and I just interviewed the hotel manager and they are interested in introducing yoga into their spa program. I was actually planning to write an article for my blog site about the amazing feng shui and energy effiency of the hotel but …
That is what transpired. However, today is our last day so we will have to continue the discussion on skype or something. IDK, it is a start and it feels good to be moving in that direction.
I have been using the "chi" machine here at the hotel to help the digestive issues that seem to be developing. No surprise there. I have stopped eating for a day or two. How do the French and italian women do it? I know, Portions.
Carlo and I did some shopping in Ibiza yesterday and have eaten so much my pants don't fit. Got some things for family and a sun dress for me made only from Ibiza. The island is rather rustic and wild and after two weeks, I am in feeling comfortable in this hotel. It has effected my energy on a weird level.
Went to my favorite cave on the cliff for my practice this morning. Too much wine last night but it was good Spanish wine. Going back to the rustic life of Montebelluna and will not have consistent e-mail access . The blog is on hold until I can put more pics in and more content. It is shaping up nicely, however and I am very pleased at the creation.
I had a dream last night that Keith and I were getting married again. We both knew it was for the second time and it just felt normal. But I was not excited. weird. We have both moved on? I was happy to see my family, though and Peg had put up feng shui mirrors all over the place to make it look bigger.
The dreams are plentiful as I use this trip and my friendship with the magician named Carlo. I feel like I am marrying myself. perhaps, finally. Doesn't really need to be about anything more than that. We are here in the world to do something and be something and love something and to find meaning. I have been looking for at least 49 years and had the wind sucked out of me and got derailed for about 4 years. Now it is my time and looking forward to the discovery and giving life back to me and to all who can receive me.these blogs may be a bit out of sequence and I will continue to edit and and pictures and correct spelling when i have the time.
loads of love linda
April 14, 2009
Breadcrumb fritters in honey syrup
Lorenzo Cano, the chef at the Chinchón Parador hotel, found this recipe when he was researching an Easter week menu of convent and monastery cooking. The cakes and puddings proved so popular they have stayed on the menu. Like many older convent sweets, these are what the Spanish call 'fruits of the frying pan.' No oven is required and the sweetening comes from a honey syrup.
Servings: Makes about 36 fritters
Ingredients:
3 eggs
3 tbsp bread crumbs, made from unprocessed white bread
Olive oil for frying
Powdered cinnamon
For the honey syrup:
1/2 cup rosemary honey or other honey
1/4 cup water
Preparation:
Beat the eggs in a large bowl with the bread crumbs. Heat the olive oil in a heavy-bottomed frying pan and when it is hot but not smoking add dessert-spoonfuls of the dough, frying them on both sides like baby pancakes. Remove to kitchen paper towels to soak up the excess oil. Heat the honey and water in a pan and when it is simmering add the fritters a few at a time. Cook them through for 5 minutes then remove them to a large, low-sided baking dish. Pour over the honey syrup and sprinkle with the cinnamon. Allow 6-7 per serving.
Selected by Vicky Hayward
Recipe courtesy of Spain GourmeTour magazine.
April 14, 2009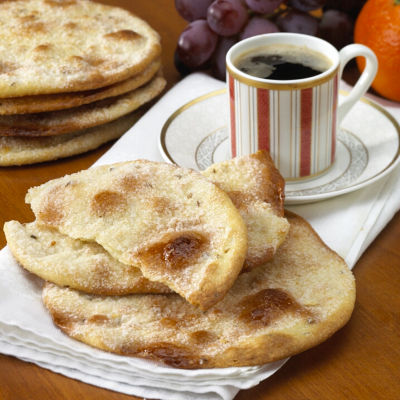 I have found my sweet alternative to Chocolate Chip cookies. I never thought I would see the day but here it is in Ibiza. these Tortas de Anis are so yummy that I don't eat all of them! they are especially tasty with Herbes Eivissenques aan herbal liquer that is great for the digestion. (also made with herbs and with the geographical denomination Herbes Eivissenques) I will share with you a receipe I found online and recomment this as an alternative to eating LOTS of sugar. Plus….it's sustainable produced by a local village. Read more and Bon Apppetite!
Wheat flour, olive oil ( 24%), sugar, matalahuga and ajonjoli, salt and anise essence.
Sweet 'Tortas de Aceite' Crisps – 2 Packages
12 Hand-Made Crisps by Ines Rosales
This product appears to be unavailable to ship to your region.
To see the products now available to ship in Europe, click here.
For US and Canada, click here.
– Customer Favorite!
– Hand patted, baked cookie
– Sprinkled with anise and sugar
– Individually Wrapped
– Made in Sevilla
In 1910 a woman named Ines Rosales started to make olive oil tortas (tortas de Aceite) by hand and sold them at the train station in Sevilla. Soon she could not keep up with the demand, so she employed the women of the local village to assist her in producing these delicate and crisp treats. She used local ingredients including extra virgin olive oil. In a short time this Andalucian specialty became known and enjoyed throughout Spain. (more info)
– Customer Favorite!
– Hand patted, baked cookie
– Sprinkled with anise and sugar
– Individually Wrapped
– Made in Sevilla
In 1910 a woman named Ines Rosales started to make olive oil tortas (tortas de Aceite) by hand and sold them at the train station in Sevilla. Soon she could not keep up with the demand, so she employed the women of the local village to assist her in producing these delicate and crisp treats. She used local ingredients including extra virgin olive oil. In a short time this Andalucian specialty became known and enjoyed throughout Spain.
Today the tradition continues. Ines Rosales Sweet Olive Oil tortas and almond tortas are still made by hand with the same recipe Ines Rosales created almost 100 years earlier. Women from the local village are still employed to hand-flatten and hand-wrap the tortas that are made in small batches.
These Anise Dessert Crisps may remind you of the pie crust cookies your Mom made when she was trimming her pie before putting it in the oven. Those were generally sprinkled with cinnamon sugar, but the classic Ines Rosales ones have a few anise seeds sprinkled on top of a healthy tart made with olive oil.